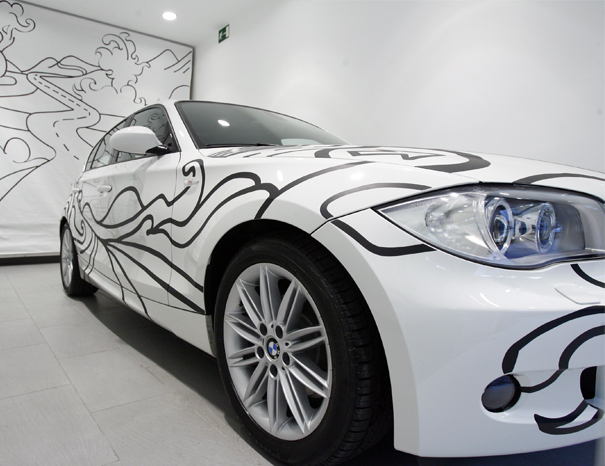 Davis Lisboa, BMW by Davis, 2007, metalized black enamel on New BMW Series 1 (5 doors), 166 x 76 x 60 in
Public and private collections:
The Yellowstone Club, Big Sky, Montana, USA.
John Erickson Museum of Art (JEMA), Gainesville, USA.
Museum of the Sub-conscious, Okandukaseibe, Namibia; Tel Aviv, Israel;
La Candelaria, Argentina, Houston, USA; Wiesbaden, Germany.
Walpole Bay Hotel Museum and Napery, Margate, United Kingdom.
Museo Microcollection, Busto Arsizio, Italy.
MACC, Museo de Arte Contemporânea de Campinas, Brazil.
Fundação Cultural Badesc, Florianópolis, Brazil.
SAL Art Gallery, CW Post Campus of Long Island University, New York, USA.
FluxMuseum, Texas, USA.
MOMA Wales, Museum of Modern Art, Machynlleth, Wales, United Kingdom.
MuBE, Museu Brasileiro da Escultura, São Paulo, Brazil.
LACDA, Los Angeles Center for Digital Arts, USA.
Artists Space, New York, USA.
Museu de Arte do Parlamento de São Paulo, Brazil.
Galerii Epicentrum, Miejskiego Osrodka Kultury Sportu i Rekreacji w Chelmku, Chelmek, Poland.