---
BMW
---
The making of BMW by Davis Lisboa.
---
The Artist Davis Lisboa Captured His Particular Style On An Bmw 1 Series Bodywork
As it could not be otherwise, the star of the night was a car. In this case, a very special BMW 1 Series. And that's because the Brazilian artist Davis Lisboa based in Barcelona reflected his particular viewpoint on the bodywork of the Compact BMW. Davis has mixed Pop Art, German Romantic landscapes, the world of comics and low and hight art, resulting in a frankly attractive outcome. This creation will allow this 1 Series car to be placed in the BMW Ibérica collection.
Those who can not attend the ceremony of inauguration are lucky because the 1 Series "by Davis" will be exposed in this BMW dealer "Cano Catalunya" for three weeks. Those who desire will be able to get a picture next to the vehicle and then download it from the www.bmw.es/canocatalunya.
In addition, the artist presented an art performance overnight shaping his particular style in the space of the new BMW dealer.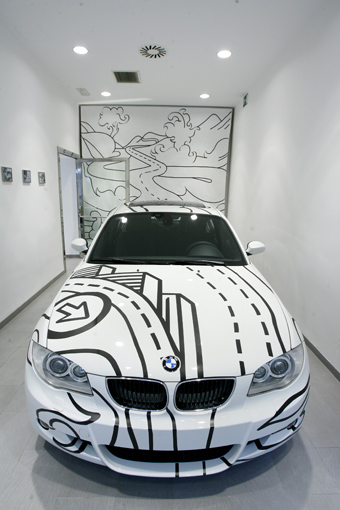 ---
El Artista Davis Lisboa Plasmó Su Particular Estilo Sobre La Carrocería De Un Bmw Série 1
Como no podía ser de otra manera, la estrella de la noche fue un coche. En este caso, un BMW Serie 1 muy especial. Y es que el artista brasileño afincado en Barcelona Davis Lisboa plasmó su particular punto de vista sobre la carrocería del compacto de BMW. Davis ha mezclado el Pop Art, los paisajes románticos alemanes el siglo XIX, el mundo del cómic, el "low-art" y el "high-art" con un resultado francamente atractivo. Esta creación permitirá a este Serie 1 encuadrarse en la colección BMW Ibérica.
Aquellos que no pudieron asistir a la fiesta de inauguración están de suerte ya que el Serie 1 "by Davis" estará expuesto en este concesionario de BMW Cano Catalunya durante tres semanas. Los que así lo deseen podrán hacerse una fotografía junto al vehículo y descargarla posteriormente desde la web www.bmw.es/canocatalunya.
Además, el artista realizó una performance durante toda la noche plasmando su particular estilo en la superficie de gran parte del nuevo concesionario BMW.
La Vanguardia, abril de 2007.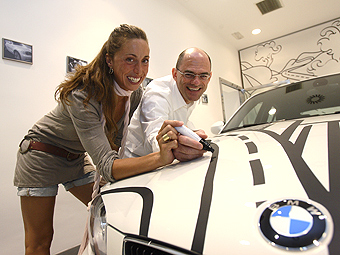 ---
L'artista Davis Lisboa Va Plasmar El Seu Particular Estil Sobre La Carrosseria D'un Bmw Sèrie 1
Com era d'esperar l'estrella de la nit va ser un cotxe. En aquest cas, un BMW Sèrie 1 molt especial. I és que l'artista brasiler establert a Barcelona Davis Lisboa va plasmar el seu particular punt de vista sobre la carrosseria del compacte BMW, Davis ha barrejat el Pop Art, els paisatges romàntics alemanys del segle XIX, el món del còmic, el "low-art" i el "high-art" amb un resultat francament atractiu. Aquesta creació permetrà a aquest Sèrie 1 enquadrar-se en la particular col.lecció BMW Ibérica.
Aquells que no van poder assistir a la festa d'inaguarció estan de sort
ja que el Sèrie 1 "by Davis Lisboa" estarà exposat en aquesta sucursal de BMW Cano Catalunya durant tres setmanes. Els qui així ho desitgin podran fer-se una fotografia al costat del vehicle i descarregar-la posteriorment des de la web www.bmw.es/canocatalunya.
A més, l'artista va realitzar una performance durant tota la nit plasmant el seu particular estil a la superfície de gran part del nou concessionari BMW.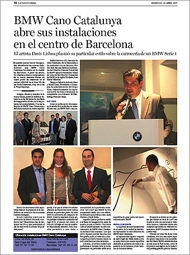 La Vanguardia, April 2007.
---